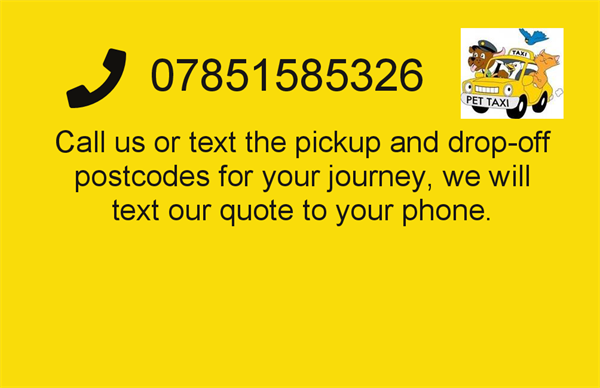 Offering a pet-taxi service, I can take your pets to their vet, kennels, grooming, holiday destinations, for friend visits, doggy daycare, airports and more for appointments.
I can also wait with your pet and comfort them until they're ready to return home, this way you dont have to worry about taking time off work to getting your pets to and from their appointments or otherwise.
I am happy to cover the cost of these appointment's then charge back at cost.We can also pass on any information or details from the pet appointments.
The pet taxi service operates within a 6 mile radius of Tring any further miles will incur a additional charge + waiting time for appointments.
I also offer a collection and delivery service across the UK, I'm happy to transport your pets to anywhere in the UK whether it's helping you move house or similar. We're more than aware than moving house is already stressful!
With my Defra license we transport all pets from cats to dogs to birds, rabbits, guinea pigs, even hamsters or gerbils - you name it, we can help move it!
On top of this, I can pick up food, medicine, equipment, new toys or similar. If you need something picking up food for your pet, I'm here and happy to help. Please just drop me a message with your needs, and I'm happy to discuss. Any costs incurred will be billed back at value without mark-up.
All pets will be transported in comfort with regular water breaks and our vehicle has tinted glass therefore blocking out the sun rays and air conditioning.
David's pet services is defra licensed animal transporter which covers us to transport a pet for up to 8 hours in the UK, fully insured to put your mind at rest.

.